GO, GO, GUATEMALA: MORE INFORMATION
Join us for an 'off-the-grid' adventure to deepen your practice on and off the mat!
Ignite your passion for ecological sustainability on a permaculture farm surrounded by volcanoes in the natural and magical setting of Lake Atitlan, Guatemala.  Immerse yourself in a cultural experience through adventure, yoga, study, and self-reflection.  Light up your passion for global citizenship on this 8 day adventure in the Year of the Fire Monkey.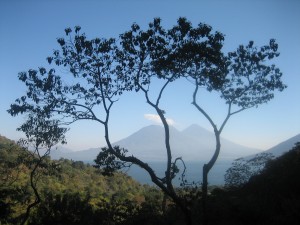 Study: Permaculture, Partner/Acro Yoga, Vinyasa, Hatha, Yin, Meditation, Astrology
Visit:  'The Lake', Avacado Farm, Local Market, Coffee Plantation
Practice:  Selfless service, Sustainable & Ecological Living
Experience:  Global and community culture, Magic!


ITINERARY
(Subject to change)
Thursday, Feb 9th
8:00 a.m. – 2:00 p.m. Arrive GUA – travel to Earthlodge from Airport (arrive before 5 p.m.)
6:30 p.m. – 7:30 p.m. Dinner at Earthlodge – Welcome, Introductions and Opening Meditation
Friday Feb 10th
8:00 a.m. – 9:00 a.m. Breakfast in Noble Silence at Earthlodge
9:30 a.m. – 10:45 a.m. Hatha Yoga with Emily
10:45 a.m. – 11:30 a.m. Free time / adventure prep
11:30 p.m. – 12:30 p.m. Lunch at Earthlodge – please be ready to depart afterwards
12:30 – 1:00 p.m. Sharp! Shuttle to Antigua Old City
1:30 – 4:30 Walking Tour / Explore Antigua
5:00 p.m. Pick up at Old Town Outfitters
6:30 – 7:30 Dinner at Earthlodge
Saturday Feb 11th
8:00 a.m. – 9:00 a.m. Breakfast in Noble Silence at Earthlodge
9:00 a.m. – 1:00 p.m. Travel to San Pedro (short stop for snacks)
1:00 p.m. – 2:00 p.m. Boat to San Marcos (optional visit to San Marcos store)
2:00 p.m – 3:00 p.m. Lunch in San Marcos – Moonfish Cafe
3:00 p.m. Sharp! Walk to Yoga Forest (15 mins uphill)
5:00 p.m. – 6:15 p.m. Hatha Yoga with Emily (Shiva)
6:30 p.m. Dinner at Yoga Forest
8:00 p.m. – 9:00 p.m. Yin / Meditation / Pranayama with Sue (Shakti)
Sunday Feb 12th
7:00 a.m. – 8:15 a.m. Vinyasa Yoga with Emily (Shiva)
8:30 a.m. – 9:30 a.m. Breakfast in Noble Silence
10:00 a.m. – 11:30 a.m. Circle and Orientation to the Yoga Forest (Shakti)
12:00 p.m. Lunch at Yoga Forest
1:00 p.m. – 3:00 p.m. Free time / swim / explore / meditate / massage / read
3:30 p.m. – 5:30 p.m. Partner / AcroYoga with Sue (Shakti)
6:30 p.m. – 7:30 p.m. Dinner at Yoga Forest
8:00 p.m. – 9:00 p.m. Yin / Meditation / Pranayama with Sue (Shakti)
Monday Feb 13th
7:00 a.m. – 8:15 a.m. Vinyasa Yoga with Emily (Shiva)
8:30 a.m. – 9:30 a.m. Breakfast in Noble Silence
10:00 a.m. – 11:30 a.m. Partner Stretches and Thai Massage (Shakti)
12:00 p.m. Lunch at Yoga Forest
1:00 p.m. – 3:00 Free time / swim / explore / meditate / massage / read
4:00 p.m. – 5:30 p.m. Permaculture workshop (Shakti)
6:30 p.m. – 7:30 p.m. Dinner at Yoga Forest
8:00 p.m. – 9:00 p.m. Campfire Kirtan with Emily
Tuesday Feb 14th
7:00 a.m. – 8:15 a.m. Vinyasa Yoga with Emily (Shiva)
8:30 a.m. – 9:30 a.m. Breakfast in Noble Silence
10:00 a.m. – 3:00 p.m. Volunteering (Lunch in San Marcos)
3:00 p.m. – 6:00 p.m. SAUNA & SALT SCRUB
6:30 p.m. – 7:30 p.m. Dinner at Yoga Forest
8:00 p.m. – 9:00 p.m. Dance party / Valentines Celebration
Wednesday Feb 15th
8:30 – 9:30 a.m. Sleep in / Breakfast in Noble Silence
9:30 – 12:00 Market in San Pedro Adventure by boat
1:00 – 2:00 p.m. Lunch at Yoga Forest
2:00 p.m. – 3:00 Free time / swim / explore / meditate / massage / read
3:30 – 5:30 p.m. AcroYoga / Thai Massage with Sue (Shakti)
6:30 p.m. – 7:30 p.m. Dinner at Yoga Forest
8:00 p.m. – 9:00 p.m. Circle: Closing and Recap, Feedback Form
Wednesday Feb 16th
7:00 – 8:15 a.m. Vinyasa Yoga with Emily (Shiva)
8:30 – 9:30 a.m. Breakfast at Yoga Forest
10:00 a.m. Sharp! Depart San Marcos
3:00 p.m. Arrive Antigua – transfer to airport or overnight stay
FACILITY & ACCOMMODATION
Earth Lodge (2 night stay) is an eco-friendly mountain lodge and avocado farm near Antigua, Guatemala. They're famous for their avocados, volcano views, amazing food and magic tree house. Just twenty minutes and 6000 feet into the mountains above Antigua, Earth Lodge is a unique and wonderful natural retreat. Wake up to stunning views of the volcanoes and cities below as the sun casts its first light over the valley. Then spend the day swinging lazily in a hammock or hiking the hills while Volcano Fuego puffs smoke in the distance. Enjoy their famous cooking, then curl up in front of the fire with a good book.
*Please note:  The Earth Lodge is located at the bottom of a 300 meter hill.  Our driver will drop you off at the top and you walk down a dirt path to get there – so you must arrive before it gets dark!   Please keep this in mind when arriving and wear proper walking shoes and pack accordingly.  When you leave, you must walk back UP the hill.  Reception closes at 9pm and the lodge closes at 10pm, so you MUST arrive before 9pm at the latest to check in, or make other arrangements in the town of Antigua Guatemala for the night.
The Accommodation ranges from rustic cabanas, to secluded tree houses, to A-frame cabins with it's own private roofed patio. Each cabana has it's own bathroom with a hot shower.  The cabins are unique and cozy, with breathtaking views, and comfortable beds.
The Yoga Forest (5 night stay) is located in San Marcos la Laguna, in the western highlands of Guatemala. Enjoy the peace and tranquility of mountains looking out over Lake Atitlán towards volcanoes San Pedro, Toliman and Atitlán. ReTreat yourself in our tropical food forest and enjoy amazing views, comfortable beds, delicious vegetarian meals, yoga and Permaculture classes and friendly community living. Yoga and Permaculture both ask you to be observant, thereby developing a greater awareness of your effect on the world around you. Taking mindful actions in caring for the mind, body, and environment, we create a deep connection with Mother Earth.
Permaculture looks to natu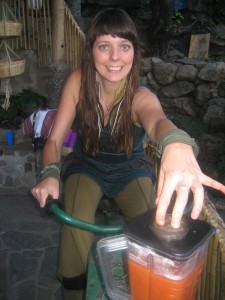 re as a model for creating a more sustainable culture. It assumes that by observing natural patterns, making conscious decisions, and managing resources well, we can live harmoniously and productively, with less work and less waste. The Yoga Forest has been built using various natural and traditional building methods including solar energy for simple electricity and hot water, and natural grey water filtering systems for the kitchen and outdoor shower.  We cook outdoors with a beautiful rocket stove and barrel oven installation using coppiced woods from the property. We blend our beans and smoothies using a bicycle blender with much joy. We try our best to produce as little waste as possible and continue to explore new endeavors to create a more sustainable community.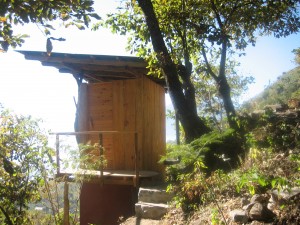 *Please note: we are living off of the grid at The Yoga Forest. There are two toilets and two showers. We hike 15 min up hill to get to our cozy abode from Lake Atitlan. This means we'll be tucked away in a private paradise, living with less than we're used to, amongst and immersed in nature.  This will be an unforgettable experience. We aren't the only ones who have fallen for this sustainable paradise. Read what others have to say about it on Trip Advisor.
Each cabaña is constructed with a bamboo frame, cypress loft, palma roof and natural adobe walls. The beds are comfortable, with warm feather duvets and pillows, and decorated with Peruvian Shipibo fabrics and Guatemalan Cushions. Simple and quaint, the cabanas fit four comfortably with two sleeping on the main floor, and two above in the attic style top floor.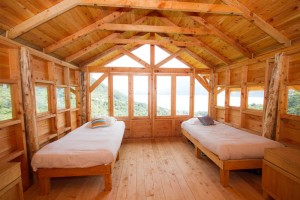 GETTING THERE & AWAY
Flight Logistics/ Once You've Landed
Flights ARE NOT included in the retreat price. Please book your flight to Guatemala City arriving either on Wed, Feb 8th or Thurs, Feb 9th (early morning). We DO NOT recommend getting into Guatemala City at night, as it's not the best place to be when the sun sets. Most of the flights out of Vancouver include a layover either in LA, Dallas, Mexico City or Atlanta. We suggest taking the red eye from your connecting city to Guatemala, getting you in around 6:30 am and then directly to Earth Lodge in Antigua Guatemala on the same day.
If you arrive on Wed, Feb 8th please pre-book a ride from the airport to Antigua (1hr drive). Private shuttle will be the most direct, or you can come in any collective shuttle heading to Antigua for about (100Q), or your hotel/hostel can book a pick up for you.  Please book your own accommodation in Antigua (or at Earth Lodge) for the night of the 8th as we meet and greet for our first meal at Earth Lodge the night of the 9th.  Please note you must arrive at Earth Lodge before dark to traverse a walk.
If you arrive early on the 9th, we will arrange for The Earth Lodge staff to pick you up at the airport, likely with others in the group.
After our two day adventure in Antigua, we will go by shuttle transport to The Yoga Forest.  It is a 3.5-4hr journey, so please make sure your bring water and snacks. We'll be stopping for lunch along the way.  Arriving into San Marcos la Laguna, we'll hike 20 minutes from the lakefront to The Yoga Forest. If you need help with your bags (it is all uphill) there will be porters available to assist you for a small fee of Q10-20 depending on your load. Please bring a backpack rather than a suitcase.
Getting Home
We will be leaving the Yoga Forest by 10am on Thurs, 16th to return to Antigua.  You can organize to stay a night in Antigua, to then fly out the following day on Fri, 17th. If you're flying back to Vancouver, you can leave Guatemala City in the morning or early afternoon to get back home late that evening. Please arrange your own ride out of Antigua to Guatemala City and your accommodation in Antigua, if need be. If you plan on flying out Thurs, 16th flights must be booked for 12pm or later in order to make it on time from The Yoga Forest.
CONTACTS
Emily Millen  emilyjanemillen@yahoo.com     778-837-0296
Susan Horning  sue@unityyoga.ca                604-319-9229
The Yoga Forest, San Marcos La Laguna, Sololá, Guatemala  Central America  info@theyogaforest.org  +502 3301 1835
Earth Lodge, Pila El Tambor, El Hato, Guatemala earthlodge@gmail.com +502 4980 2564
PACKING LIST
Backpack
Yoga Mat
Earplugs
Flashlight or Headlamp
Bug Spray
Shower shoes/slip off shoes
Hiking/walking shoes
ONLY biodegradable soaps, shampoos, etc.
Sunscreen
Sun Hat
Light jacket, sweater, or wrap for the chilly nights
Books, music, crafts, art projects
Items for our altar (optional)
Journal/Diary, something to write with
Beach gear (bathing suit, beach towel, shower towel)
Stock up on over-the-counter things you may need and bring em as they may be harder to find here: Tylenol, Advil, motion sickness pills (such as Dramamine), TUMS, and Imodium are all good items to have on hand in a pinch. Also, if you normally take vitamins or other supplements, get enough for your trip.
Non-disposable water bottle (Metal or glass recommended. Please no disposable plastic bottles or bags)
A photocopy of your health insurance and passport (to be safe)
**PLEASE LEAVE YOUR VALUABLES AT HOME**
DAY TRIPS
Nutrition Center Konojel: Day of Selfless Service
https://vimeo.com/95521942
Local Market in San Pedro de la Luna
The Lake: Swim, Kayak, Boat, Sun
DO's & DON'Ts of GUATEMALA
By far the most common health issue that travelers to Guatemala experience is stomach-related. This can range from serious diseases like cholera to simple cases of diarrhea. Watch what you eat, drink and generally put in your mouth. Here are a few simple guidelines to keep you out of the bathroom and on the road:
Wash your hands thoroughly before eating or touching your face.
Eat only in places that appear to be clean (conditions in the dining room are sometimes a good indicator of what's going on in the kitchen).
To ensure the food you eat is fresh and freshly cooked, eat only in busy places around mealtimes.
Peel, cook or disinfect fruits and vegetables.
Be very selective when it comes to street food.
Avoid tap water unless it has been boiled thoroughly or disinfected. Ice in more expensive restaurants is made from purified water, but order drinks without it if you want to be really cautious.
If you do get sick and it lasts longer than a few days, take a stool sample to the laboratory (even the smallest towns have them) for analysis. You'll get a possibly alarming readout of exactly what kinds of bugs you have. Any pharmacist will be able use the readout to prescribe the appropriate medicine.
CURRENCY AND EXCHANGE

USD is an accepted currency in Guatemala and Quezales is the Guatemalan currency which is readily exchanged for USD.  If you are travelling with large USD bills, you may have trouble getting smaller change, so bring small denominations of currency with you, just to avoid hassle.
CAUTION AND COMMON SENSE

While crime definitely happens in Guatemala, and definitely happens to tourists, these days the most frequently reported type of nasty incident involves robbery on walking trails.  The days of robbers targeting buses and tourist shuttles out on the open highway seem to be thankfully in the past, although some tourists in rental cars have been targeted. This information is incredibly fluid – if you're planning on driving yourself around, check with Proatur for the latest.
The crime you're most likely to become a victim of involves pickpocketing, bag-snatching, bag-slitting and the like in crowded bus stations, buses, streets and markets, but also in empty, dark city streets. In short, use your street smarts and you should stay out of trouble.
It's best to travel and arrive in daylight hours. If that's not possible, travel at night using 1st-class buses and catch a taxi to your hotel once you arrive.
SCAMS
One common scenario is for someone to spray ketchup or some other sticky liquid on your clothes. An accomplice then appears to help you clean up the mess and robs you in the process. Other methods of distraction, such as dropping a purse or coins, or someone appearing to faint, are also used by pickpockets and bag snatchers.
Regrettably, ATM card cloners have moved into Guatemala, targeting Guatemalans and foreigners alike. They operate by attaching a card reading device to the ATM (often inside the slot where you insert your card) and once they have your data, proceed to drain your account. There have been reports of card cloning in all the major tourist destinations. The only way to avoid it is to use ATMs that cannot be tampered with easily (inside supermarkets or shopping malls). The ATMs most prone to tampering are the ones in the little unlocked room at the front of a bank.
You should never have to enter your PIN number to gain access to an ATM room.
TIPS

Only carry the money, cards, checks and valuables that you need. Leave the rest in a sealed, signed envelope in your hotel's safe, and obtain a receipt for the envelope.
Don't flaunt jewelry, cameras or valuable-looking watches. Keep your wallet or purse out of view.
On buses keep your important valuables with you, and keep a tight hold on them.
Use normal precautions when using ATMs (and be aware that card skimming is a reality here).
Hiking in large groups and/or with a police escort reduces the risk of robbery.
Resisting or trying to flee from robbers usually makes the situation worse.
Hiking on active volcanoes obviously has an element of risk. Get the latest story before you head out. In the wet season, hike in the morning before rain and possible thunderstorms set in.
Be careful, especially in rural areas, when talking to small children, always ask permission to take photographs and generally try not to put yourself in any situation that might be misinterpreted.