GILI GETAWAY
Retreat to the tropical Gili islands of Lombok, Indonesia!
Join us for this Seven night retreat to paradise – relax and enjoy the view of crystal clear waters, or take a short walk around the island (1.5hrs around the periphery).  We will practice together while nourishing our bodies with delicious food, sunshine and only the best of company!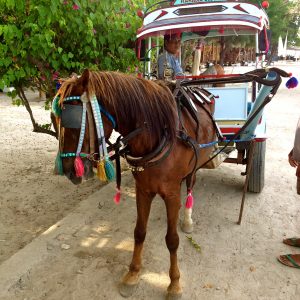 The island of Gili Meno does not allow cars or motorcycles; the sole modes of transport are the small 'perahu' boats,  horse drawn carriages, riding bicycles and walking!   The horse drivers will ask for a reasonable charge of RP8,000 (about CDN$8) to take you and your belongings the 10-minute trip to the retreat location.  While walkable, it may be hard to find, so best to trust the locals to get you there the first time.  What a unique way to traverse this tiny island!
Nearby there's a natural lake, perfect to stop at for a meditation, or sip a smoothie in one of the many guesthouses or bars along it's shoreline.  The Turtle Sanctuary is a nice place to see baby turtles before they are released to the wild, or you may be lucky enough to see one in the ocean!  A percentage of our profits will go directly to the turtle sanctuary, as part of our commitment to supporting local conservation efforts.
You can even adventure by boat to one of two adjacent islands, Gili Trawagan or Gili Air.  Gili Trawagan has essential services such as banks and shops and bars packed full of tourists, if you're looking for a party.  Gili Air is quieter, with pristine beauty.  There are many ways to spend your time in an around the Gili islands.
We will be hosted by a friendly couple who have held space for yoga on the island for many years.  Originally from Spain, they fell in love with the island and decided to settle and create this small oasis.  They are well liked and respected by the village people.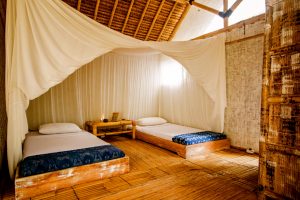 Tourism is booming on these small islands, so careful attention will be made to ensure that we are keeping a low environmental impact. Conscious and minimal use of plastics, water and reducing our ecological footprints on the delicate surrounding ecosystems is important to everyone.  Please only bring with you biodegradable cosmetics and soaps, and leave no trace of plastic bottles, disposable items or extra garbage.
Fantastic snorkeling, boating, swimming and enjoying the slow-pace of island life will leave you inspired, refreshed and relaxed.  Take time away from the group to rejuvenate, or enjoy the social atmosphere we create for you.  The combination of scenery, bodywork, self-inquiry and good company is truly an investment in your well-being.
Don't miss this unique opportunity to experience one of the most beautiful islands in the world!
GETTING THERE AND AWAY:

The Gili Islands are located five kilometers off the northwest coast of Lombok, Indonesia.  The easiest way to access the Gili Islands from Bali is through one of the fast boat companies offering daily transfers from Pagangbai (East Bali) or Sanur (Bali). A shuttle bus from the airport, Kuta, Seminyak or Ubud is included in the fare, and easy to arrange from wherever you stay in Bali.  We recommend Eka Jaya fast boats or Marina Srikandi. Prices vary from CDN60 USD to CDN$100 return depending on the season.
Another option is to fly to the new Lombok International Airport. From there it takes 2 hours to get to Bangsal, where the local boats depart to the Gilis.  Boats leave to Meno at 10am, 2pm & 5pm. Additionally there is a new fast boat connecting Meno with the other two Gilis & Lombok. Departing on the hour, for 85.000IDR (CDN$8.50) one way.
Once in Gili Meno ́s harbour, maoMeno is located on the South of the Island. It is a 10 minute walk from the boat docks. Follow the Yoga signsor hire a horse cart (recommended) for 80,000 IDR (CDN$8).
Airport Codes:
Denpasar (DPS)
From Lombok (LOP)
ACCOMMODATION: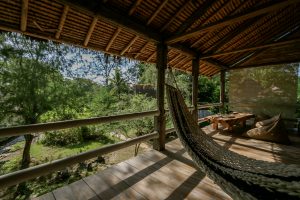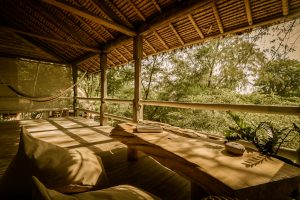 The accommodation of Mao Meno is beautiful, simple, yet rustic.  There are six guest houses which hold 1-4 people, and the open air concept allows a deep connection to nature.  Each morning you'll wake up to the sound of tropical birds singing and the sound of wind in the trees.   The gentle tranquility of shaded structures allow for serene privacy as well as cozy shared space.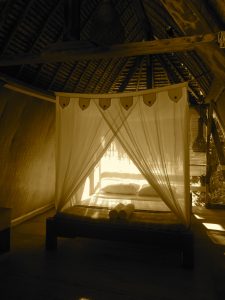 Most of the structures are wooden and bamboo, and have adjoining bathrooms.   All of the water on the property is brought in from the mainland, so water conservation is very important.  Short showers (or less frequent) are recommended as fresh water is in limited supply here, as with all of the Gili islands.  By using less, we ensure enough is available for everyone.
Drinking water is kept in the cafe and you will need your own thermos to stay hydrated during your visit.  A flashlight to traverse the trails in the evening is also useful to have along.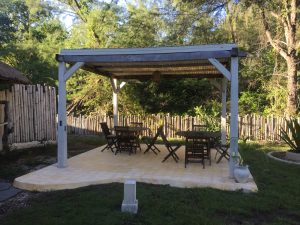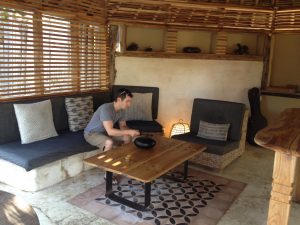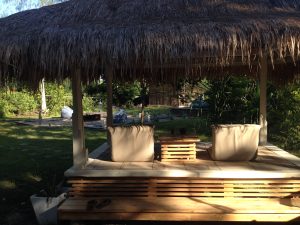 OUR TYPICAL DAILY ITINERARY:
7:30 a.m.        Meditation /  Pranayama
8:00 a.m.        Breakfast in Noble Silence (Respectful quiet time)
9:00 – 10:30    Hatha  Yoga (Every day)
10:30 – 12:00  Free Time:  Swim, Snorkel, Massage, Read, Relax, etc.
12:00 – 1:30    Lunch
1:30 – 3:00      Free Time
3:00 – 5:00      Workshop (Day 3,5 and 7)
5:00 – 7:00      Free Time
7:00 – 8:30      Dinner
8:30               Yin Yoga / Circle Sharing / Meditation / Pranayama (Day 1, 2, 4, and 6)
Opt-Out Policy:  All activities are optional and you may opt out at anytime.