Harvest the Spirit: More Information
Harvest The Spirit, Nourish the Soul

TRIP ITINERARY (SUBJECT TO MINOR REVISIONS)
Thursday
3:00 – 5:35 p.m.    Depart Tsawwassen ferry terminal, arrive Fulford Harbour, SSI
6:00 – 7:30 p.m.   Welcome Dinner at The Barn @ Stowel Lake Farm
8:45 – 9:00 p.m.    Circle: Welcome to Stowel Lake Farm, Itinerary
9:00 – 10:30 p.m.  Foot Reflexology / Yin Yoga

Friday
7:00 – 8:00 a.m.     Meditation – self-guided (optional)
8:00 – 9:00 a.m.     Breakfast in Noble Silence
9:00 – 10:00 a.m.   Nutrition Workshop and Farm Stroll with Chef Haidee
10:00 – 11:30 p.m. Gentle Hatha Yoga 'Hip openers and twists'
11:30 – 1:00 p.m.   Circle: Harvest The Spirit Journalling, Icebreaker, Introductions
1:00 – 2:00 p.m.     Organic Vegetarian Lunch
3:00 – 5:00 p.m.     Unity Partner Yoga 'Partner up! Courageous Counterbalances and Co-creation'
5:00 – 6:30 p.m.     Shower/Dinner Prep/Free Time/Farm Stroll/Massage
6:30 – 8:00 p.m.     Organic Vegetarian Dinner
8:00 – 9:30 p.m.      Pranayama / Yoga Nidra
Saturday
7:00 – 8:00 a.m.      Meditation – self-guided (optional)
8:00 – 9:00 a.m.       Breakfast with Noble Silence
10:00 – 10:45 a.m.  Hatha Yoga 'Trust and Let Go: Boldly Bending Back'
12:00 – 1:00 p.m.     Circle: Harvest The Spirit Questions, Journal, Check-in
1:00 – 2:00 p.m.      Organic Vegetarian Lunch
2:00 – 4:00 p.m.      Salt Spring Island Market in Ganges / Free Time
3:00 – 4:30 p.m.      Free Time / Walk in Ruckle Park (optional)
5:00 – 6:30 p.m.      Thai Massage 'Give to Receive'
6:30 – 8:00 p.m.     Organic Vegetarian Dinner
8:00 – 9:30 p.m.     Ecstatic Dance 'Dance the Chakras'
9:30 – 10:30 p.m.   Campfire Kirtan
Sunday
7:00 – 8:00 a.m.     Meditation – self-guided (optional)
8:00 – 9:15 a.m.     Breakfast with Noble Silence
9:45 – 11:00 a.m.   Blindfolded Hatha 'Into the Dark'
11:00 – 12:30 p.m. Diads, Intention Recap, Reflect & Integrate, Feedback
1:00 – 2:00 p.m.     Organic Vegetarian Lunch
2:00 – 2:30 p.m.     Pack, Visit Cheese Farm, Stroll, Readings/Massages
2:45 p.m. Sharp! Leave for ferry (enjoy stores and café at the harbour)
3:50 p.m. Ferry departs Salt Spring to Tsawwassen (Vancouver)
Getting There and Away
If you are taking your vehicle, please book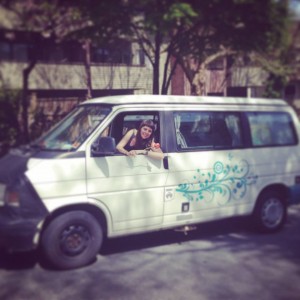 ferry in advance to ensure you have a space (see below for sailing times).  If you are taking a car, please inform us if you'd like to carpool with other students.  If you want to park and walk on, we are happy to pick you up from the Ferry to drive you to the farm!
NOTE: If you are unable to make the 3pm ferry, you are welcome to jump on the 5 pm and meet us after dinner at the Farm.  However we strongly encourage that all participants arrive early for the 2:00 or 3:00 pm sailings from Tsawwassen to make a smooth connection to Salt Spring Island.
Ferry Info:
Getting There Thursday:   We depart on the 2:00 or 3:00 p.m. sailing from Tsawwassen, arrive @ Swartz Bay 4:35 p.m., then depart Swartz Bay 5:00 p.m., arrives @ Fulford Harbour  5:35 p.m.
Getting Away Sunday:   We depart Fulford Harbour 3:50 p.m., arrive @ Swartz Bay 4:25 p.m., then depart Swartz Bay 5:00 p.m., arrives @ Tsawwassen at 6:35p.m.  Please note there is another sailing from the other side of the island (30 mins drive from the Farm) leaving Long Harbour at 2:55p.m. direct to Vancouver (no transfer).
We recommend that you reserve your Ferry trip in advance to ensure easy connections!
Uh Oh!  Missed the connection?  Don't worry, there's a great restaurant in Schwartz Bay (The Stonehouse Restaurant and Pub), and you can catch the next sailing and meet us at the Farm.
For more information on other ferry times (to and from), check BC Ferries website:  https://www.bcferries.com/bcftravelcentre
About the Accommodation
http://www.stowellakefarm.com/
Standard Accommodation is shared, funky boutique-rustic (luxury in nature). Private rooms are available at an additional cost.  Please ask us!
Stowel Lake Farm is an established organic farm located in the south end of Salt Spring Island. The facilities are beautiful and comfortable.  The accommodation on Stowel Lake Farm is comfortable and charming.  Most of the rooms sleep two people with a few that sleep three people. The Gatehouse, the yoga and meditation space, has large windows that allow panoramic views of our stunning farm and the natural environment. The building itself is warm and light and beautifully handcrafted by local woodworkers.  We enjoy the privacy of the farm with exclusive use for our participants during our stay.
About the Food
The staff at Stowel Lake work with several experienced and talented caterers to provide delicious and healthy meals for retreats. The emphasis is fresh, organic and locally produced food infused with LOVE. Vegetables grown on the farm is used whenever possible.  Haidee Hart is our regular chef, and she provides nothing but the FINEST.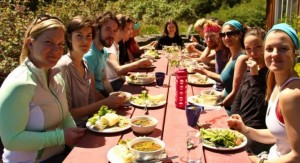 Where do we eat?  The Barn!
The Barn, a post and beam structure, was built in the early 1970's using Douglas fir trees from the property.  It was first used as a sheep barn and housed over 100 ewes (the sheep have left). Each spring the lambs would leap with joy in and out of the back of the Barn.  During these years the upstairs of the Barn was full of hay and several well used barn swings!

Commuter Rates:
For our local friends, we offer a Commuter rate of $429 for the four days (including Thursday night and Sunday morning), or if you want to just come for the day, $120 per day (includes just lunch) for those of you who live on the Island and would like to participate in our retreat.  Contact us to save your spot as space is limited – letsgo@unityretreats.ca.